The Science of EMS Training
EMS training has been employed in sports medicine and rehabilitation for decades. EMS training has widened its scope of application in the last 10 years to include general fitness and sports performance. A wealth of research exists on EMS training among its areas of application—research that has proven EMS' scientific effectiveness. Some of the most significant research findings have shown positive training effects on muscle mass (Kemmler & Von Stengel, 2013). Research from the German Sport University Cologne (Filipovic et al., 2012; Speicher et al., 2008) found significant improvements in speed and maximum strength after a period of EMS training. Research into rehabilitation at the University of Bayreuth (Boeck-Behrens et al., 2002) has shown significant levels of pain relief in participants suffering from back pain. EMS training has also proved an effective training method for the elderly (Kemmler & Von Stengel, 2012) and for cardiologic patients, as research from Bad Oeynhausen has shown (Fritzsche et al., 2010).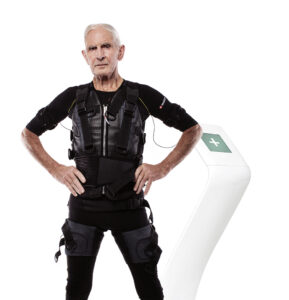 Neext Body's EMS training is a full-body workout that activates up to 90% of muscles simultaneously. With our technology, and the guidance of our certified trainers, muscle contractions are more intense and of higher quality than traditional body exertion alone. As opposed to conventional weight training, EMS training activates deeper muscle groups, which leads to better balance among the body's muscles and increased core stability. The Neext Body EMS device stimulates multiple muscle groups simultaneously, allowing for repeated activation throughout the body. Clients always do their EMS training under the guidance of a personal trainer who can activate eight muscle groups individually—the lower back, stomach, biceps and glutes, for example—depending on your goals and needs.